Summer Camping in Allegany
We went camping last month in Allegany, It was a much awaited camping trip, and we had begun preparations a month earlier. Manish had put together a beautiful list based on his prior camping experiences and we were prepared with stuff from mosquito cream to combat West Nile virus to Stomach upset medicines. We were seven. That is me (Abhi ), Bini , Manish , Rashi , Sanjeev , Pooja , Aryan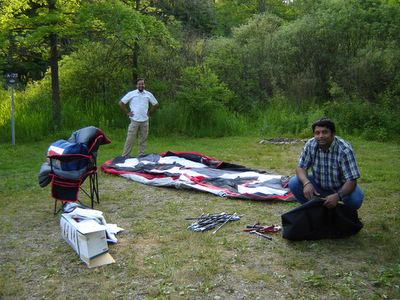 We started from Corning in the evening and reached Allegany with light still up thanks to the long summer day and the daylight savings. We started with beer as all good things should be started and we were soon putting up the tent . We put Sanjeev's tent first and it was a little tricky and we spend quite some time to put it up . Then we put mine and it took less time as we knew the ropes and then Manish's tent was to be put. By this point now we were self declared experts and tried to improvise the procedure and ended up taking more time . So we came to the conclusion Always follow instructions to the dot.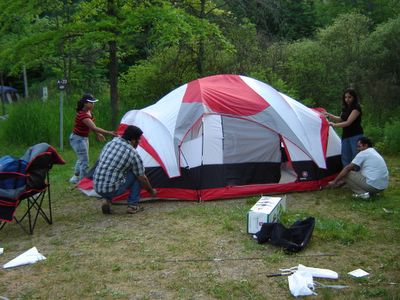 Once we set up tents we set up the dinner table .It was Raasi's birthday. So we cut cake and we smeared her with cake . The cake was lovely.
Then we planned to start a campfire. After a few minutes we had a nice campfire going . We roasted marshmallows in the fire . It was fun even Aryan tried a hand in roasting marshmallows . We were quite exhausted by now and we sent to sleep . The night sleeping out was very interesting , There were lot of foxes making sounds and later we realized that it was Manish and then Sanjeev and some other campers joined :)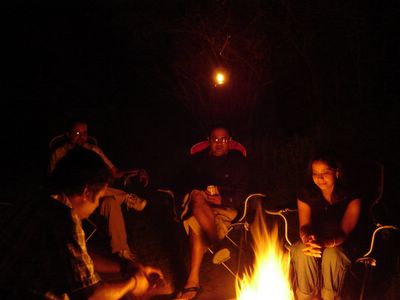 The next day morning we found out that there has been some breach in security . We had accidentally left some buns outside and it was eaten by some animal . We had been warned about bears . Anyway we did not know what animal it was . But it was strong enough to make a hole in the basket and take the bun out of the cover. Anyway luckily we had some bread so we had bread instead of bun along with scrambled eggs and hot tea for breakfast.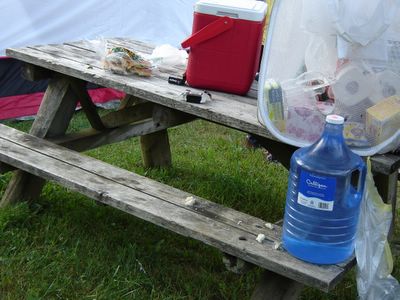 Making breakfast at the campsite is really a wonderful experience . And we had a good filling breakfast with orange juice and stuff. All the time the topic was about the bear who came to eat our buns.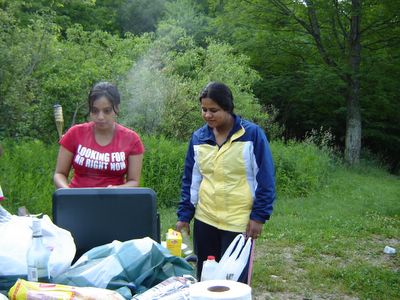 Some shade time. Lying down in the open air is so relaxing . No cases for Sanjeev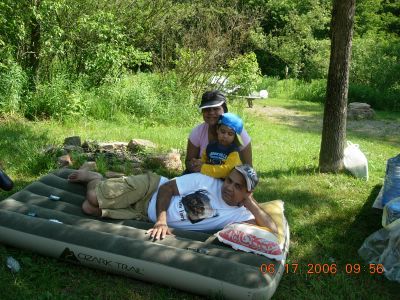 After some hour of cycling we were exhausted and then we thought of catching little fish from the stream . We had lot of fun . We even caught a small lobster but we let it go after some time.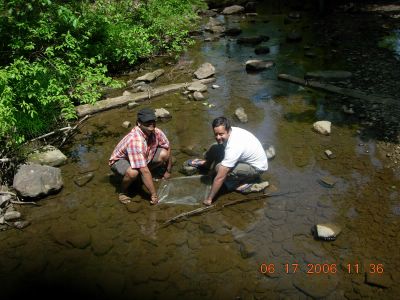 After breakfast we lied down and relaxed for a while . No laptops , No cell phone no Instant messenger and NO TV is actually a lot of fun . Then we headed down and rented a cycle and Benita went cycling for some time and then we both went cycling together .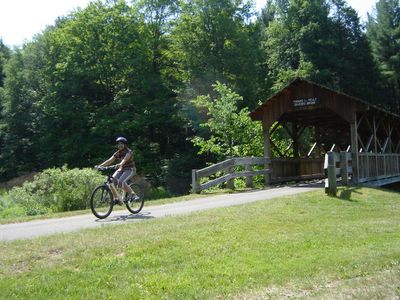 Next on the agenda was slow cycle contest . We all had loads of fun in that . We timed each person's lap and decided winners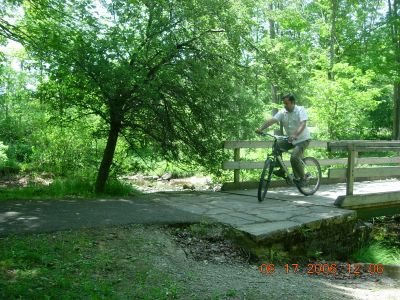 We made lunch next and we sat down in the stream which had a very little flow. Our camping chairs were really nice as you could put them anywhere. Next we went boating in the lake . There were some water cycles. But since there were lots of weeds we could not rent the water cycles. We rented rowboats instead .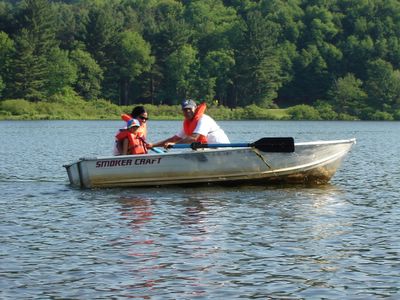 We came back and then started out charcoal fire again and started grilling . We had Onion, bell peeper , Sukini and chicken and some veg burgers all toasted to perfection . Now we had a new guest a giant raccoon . Now we knew it was this guy who ate our bread yesterday night . After a few minutes he left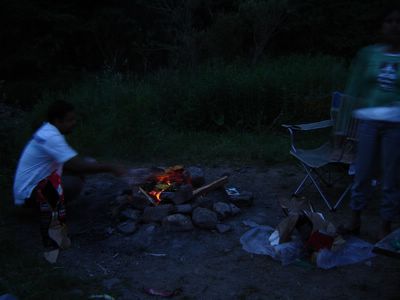 We had a couple of rounds of beer and vodka and I guess we did have a little too much as I apparently was walking all around in circles when I thought I was walking straight . The next day morning was not the fun part in camping where you need to pick up your trash and clean the place. The hangover of the previous night was there . Well we picked trash and checked out of the camp by 11 and drove back. The 2 days close to nature had taken a toll on everyone . I guess we should never have mixed alcohols as it had quite unpredictable results. But then there will always be some thing that you need to set right the next time . But it was definitely a wonderful experience. Hopefully we will have another one before the summer is over.